Heyer was killed when a car plowed into a crowd of counter-protesters after a white supremacist rally in Virginia now her mother has started a foundation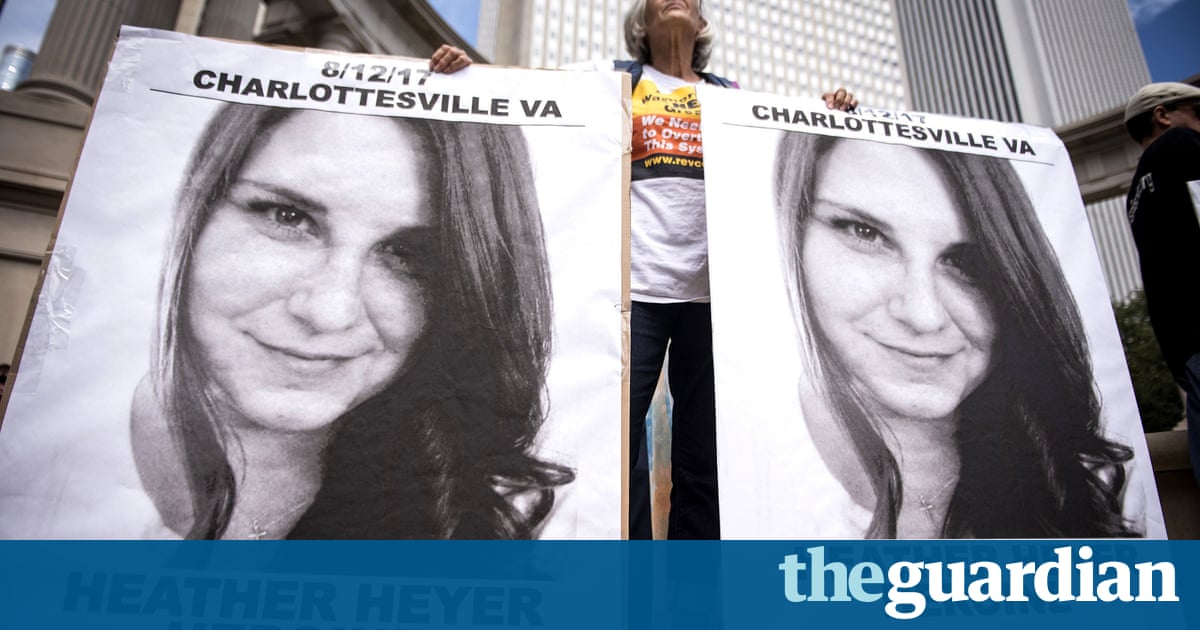 Recently, someone sent Susan Bro a T-shirt and a stack of bumper stickers that read Just be nice. She gave the shirt to her mother, who had always told her that: be nice. Bro has no interest in being nice, and she has no interest, just now, in forgiveness. Her 32-year-old daughter, Heather Heyer, was killed seven weeks ago when a car plowed into a crowd of counter-protesters after a white supremacist rally in Charlottesville, Virginia. Nineteen other people were injured. The man charged with Heathers murder was a 20-year-old from Ohio who had demonstrated that day alongside a white nationalist group and had, a former teacher recalled, a longstanding fascination with Hitler.
At Heathers funeral, Bro refused to let any politicians speak. When it was her turn to address the crowd, I could have driven it to hate and vengeance, and I could have driven it to understanding and love and forgiveness and sweetness and light. And neither of those was what I wanted to say.
They tried to kill my child to shut her up, she said at the funeral. Well, guess what: you just magnified her.
After Donald Trump repeatedly blamed both sides for the violence in Charlottesville, Bro announced on Good Morning America, Im not talking to the president. You cant wash this one away by shaking my hand and saying Im sorry.
Think before you speak, she told the president of the United States.
Im just a waitress
Heather had been the kind of American who showed up often in articles about Trumps political rise: the great-granddaughter of coalminers, she had grown up living in a trailer in rural Virginia, in a family that has always, our entire lives, been on the bottom end of the middle class, with not much hope of rising above that, Bro said. To us, middle class is working class.
The school Heather attended, where her mother also worked, was overwhelmingly white, only 4% black, 1% Hispanic and less than 1% other races, Bro recalls. Heather had struggled to graduate from high school and had never gone to college. She had lived at home with her mother, clashing with her frequently, into her early 20s, and then worked as a waitress and bartender, before getting a job in 2012 working with bankruptcy clients as a paralegal. Five years into this job, she had not yet fully accepted that she might have career success. When she made a typo, or when a law firm colleagues college fraternity brother asked her out, she would say, reflexively, Im just a waitress.
Heather had been afraid of what Trumps political rise meant for America, and she had paid attention to him, long before her supervisor, a man who had studied political science, had taken him seriously. She was passionate about injustice, bristling when clients acted surprised or skeptical that the highly credentialed man running her bankruptcy division was black, and breaking down into tears of fury when a local sheriffs office posted on Facebook about its public seminar on the Muslim religion called Understanding the Threat.
Read more: https://www.theguardian.com/us-news/2017/oct/01/heather-heyers-mother-on-hate-in-the-us-were-not-going-to-hug-it-out-but-we-can-listen-to-each-other