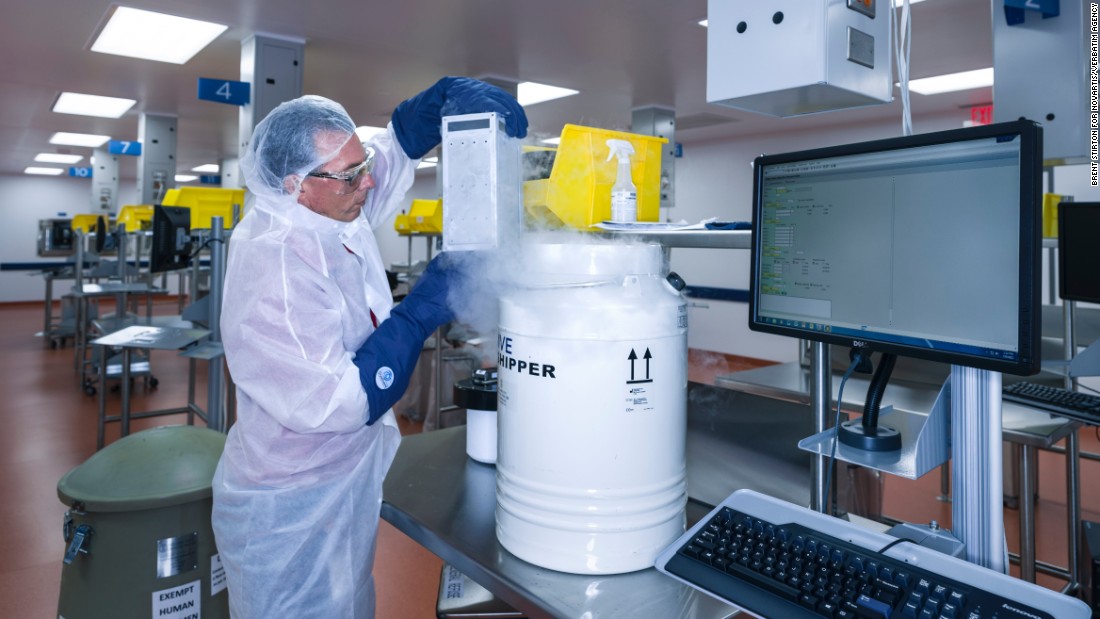 (CNN)An individually tailored cancer treatment was recommended for approval to the US Food and Drug Administration by an advisory committee on Wednesday, but concerns about its long-term safety remain.
If approved by the FDA, the drug will be a new avenue for some leukemia patients whose first-line drugs have failed.
A panel of experts voted to endorse the immunotherapy drug, known as tisagenlecleucel, which treats a type of leukemia that is more common among children. Ten committee members voted in favor, and one left early without voting. None voted against.
The drug enables patients' own immune cells to recognize and kill the source of the cancer: a different immune cell gone awry.
"Which one wins is really the question of life or death," said
Dr. Catherine Diefenbach
, clinical director of NYU's
Perlmutter Cancer Center.
Diefenbach, who was not involved in researching the drug and has no ties to its manufacturer, Novartis, described its results as "astounding."
The vast majority of people with ALL recover through other treatments, including chemo, radiation and stem-cell transplantation. But when the cancer comes back, the prognosis can be dire.
But the drug has side effects that can be fatal, such as cytokine release syndrome or CRS, which "looks like sepsis" and causes blood pressure to drop dangerously low, said Diefenbach. This could limit the drug's availability to those hospitals that are specially equipped to deal with this complication, she added.
And because the treatment kills one type of immune cell, patients are more likely to come down with certain infections. At least three patients died with various infections — including viral, bacterial and fungal — more than a month after the drug's one-time infusion, according to the brief.
But the overall effectiveness of the drug and the lack of other options seem to have won the committee over: About 89% of the patients in the small trial survived at least six months, and 79% survived at least a year. The majority were also relapse-free in the same time frame.
Tisagenlecleucel is a type of immunotherapy called chimeric antigen receptor T-cell therapy, or CAR-T.
CAR-T drugs like tisagenlecleucel are made by removing immune cells from a patient, genetically modifying them using a virus and putting them back into the patient. The virus creates a new cell receptor — which is, in Novartis' case, part mouse — that targets another receptor on the cancer cells: CD19. This modification of the cells causes them to attack the cancer cells.
By modifying immune cell DNA, this method could, in theory, lead to other cancers — a longtime concern for gene therapy. But researchers have found no cases of this happening with the CAR-T treatment so far. Brody said it could take decades to conclusively say this does not happen.
"We've never seen this theoretical thing," Brody said, arguing that the chance of this happening is certainly smaller than the certain death of relapsed cancer. "It's not an opinion. This is straightforward numbers."
Brody said that personalized immunotherapy treatments like this one require that patients use their own immune cells because they would "almost never (find) a match."
"You can put someone else's red blood cells into you," he said. "You can almost never put someone's (immune) cells into you."
Kite Pharmaceuticals has another CAR-T drug up for FDA priority review for the treatment of lymphoma.
The Novartis drug is not the only FDA-approved drug to target CD19; Amgen's blinatumomab treats ALL using a similar technique, but "it's overall not quite as good" as the data coming out of the Novartis trials, Brody said.
The FDA does not have to follow the recommendation of their advisory committees, although it often does. The agency declined to comment on when it would issue a final decision on the committee's recommendation. Novartis expects the FDA to make a final decision by October but declined to comment on the drug's potential price tag.
Read more: http://www.cnn.com/2017/07/12/health/fda-committee-recommends-cancer-drug-immunotherapy/index.html