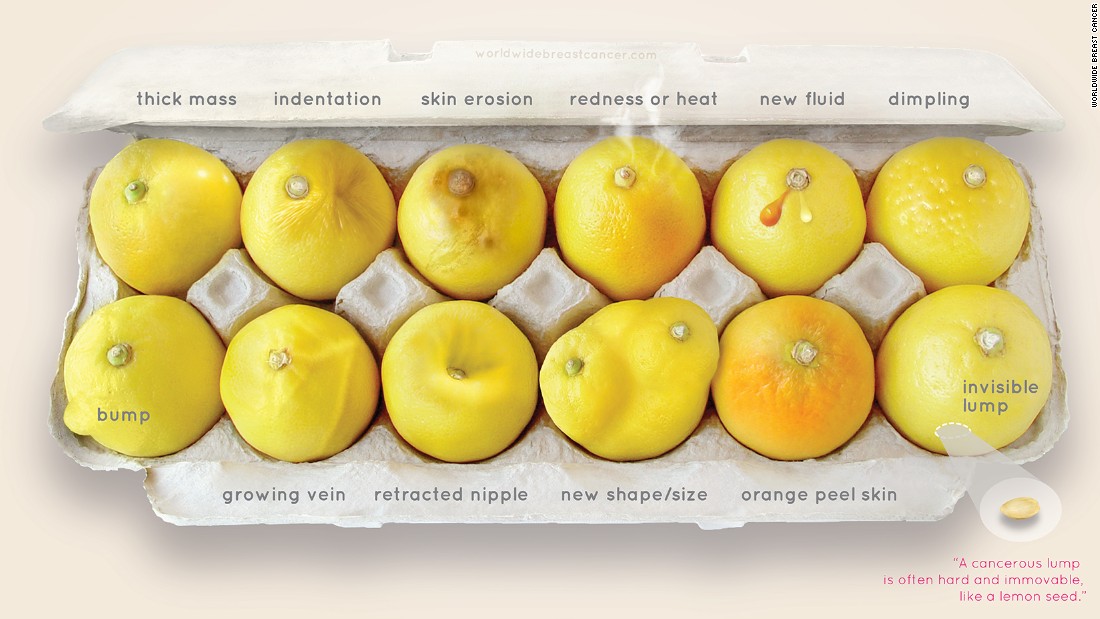 (CNN)When Erin Chieze saw an indentation on her breast in December 2015, her conclusion was immediate. "I instantly knew I had breast cancer," she wrote on Facebook, thanks to a breast cancer awareness photo a friend had shared.
"Had I not seen that photo, I would have assumed that it was an indentation from the underwire of my bra," Chieze, 38, a nursing student at West Hills College in Lemoore, California, told CNN.
Within five days of noticing the indentation, she was told she likely had breast cancer. A month later, doctors told her it was stage IV; the cancer had metastasized outside the breast.
"I knew all about self exams," Chieze wrote on Facebook last week, "but a picture of what to look for keyed me into knowing I had a terminal disease."
Despite the popularity of the graphic, Barrio said, most of the cases she sees are picked up by routine mammogram before a patient has any symptoms. In her work as a surgeon, she does not often see patients with the symptoms in Beaumont's graphic.
"But this can depend on screening and access to health care," she said, adding that in areas such as many of the developing countries where the lemons have been distributed, many patients do arrive at the clinic with visible symptoms.
Even then, Barrios cautions that a clear mammogram is not an all-clear.
"You can have a normal mammogram and still have changes that need to be looked into," she said
Life after lemons
For Beaumont's next project, she is working with metastatic breast cancer patients through the
Metastatic Breast Cancer Alliance
, a patient advocate organization that connects breast cancer patients with resources and clinical trials.
Her project will use similar images to prompt conversations betweenthese patients and their doctors.
Of the recent attention to her Facebook post, breast cancer patient and nursing student Chieze said, she has had mixed emotions. Having to tell her story and explain her disease at length can be difficult.
"At the same time, being able to help someone along the way has been fantastic," she said.
Chieze, whose prognosis is uncertain but whose cancer is currentlyin remission, hopes that the renewed attention in this campaign will support the ongoing demand for research and resources for metastatic breast cancer patients. About 22% of these patients live five years past their diagnoses, according to the
American Cancer Society
.
"I can only touch so many patients in a single day," Chieze said, "but now I've been able to help people on a much larger scale."
Read more: http://www.cnn.com/2017/01/16/health/lemons-breast-cancer-campaign/index.html