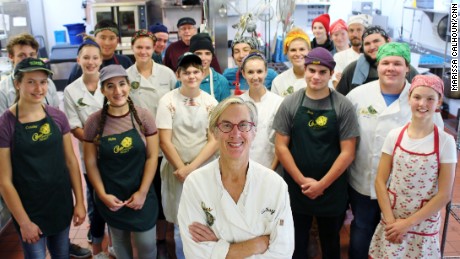 Sebastopol, California (CNN)Cathryn Couch believes in the power of food to help people heal. It's something the professional chef discovered 10 years ago.
Couch was asked to teach her friend's teenage daughter how to cook. So she turned the culinary lessons into a unique summer project: preparing healthy meals for three families dealing with a serious health crisis.
In one of them, a mother of two had stage 4 breast cancer.
"In that situation, everyone is terrified and the parent who is well has this enormous burden of caregiving and working to support the family," Couch said. "I realized that the food was a vehicle to help relieve some of that stress."
We jokingly say youth come to Ceres for all kinds of reasons: They have to do community service hours. Their parents think it's a good idea for them. Their friend is working there. But no matter why they come, we find that they choose to stay on their own.
The truth is, youth have the same deep longing that we all doto be valued and to belong to their communities.
CNN: Aside from gaining cooking skills, how have you seen the youth benefit from this experience?
Couch: One of the most important things that happens for young people in the program is that clients come to visit, and they get to really feel the impact that they're making. It's very different to see a name on a container and to know abstractly that you're cooking for someone in need. But when you're sitting across from that person and you hear their story and you hear everything they're struggling with, and then they thank you personally for being there and for making this happen for themit really shifts how you see yourself. That's the transformation that every young person in our program has an opportunity to go through.
You can make a donation right now to the Ceres Community Project. Just click the CrowdRise widget below!
Read more: http://www.cnn.com/2016/09/15/health/cnn-hero-cathryn-couch-ceres-community-project/index.html